There is a longstanding battle between the Indian sub-continent cricket playing nations in the playground. Make no mistake, the Political battle was between India and Pakistan only. But in gentleman's game, it is between the three nations surrounding India including India. India hasn't always been the strongest of teams, but the dominion stayed with Sri Lanka and Pakistan for a long period.
India elevated in its ranks and grabbed the top position in international cricket and Pakistan and Sri Lanka were forced to settle for the second position. Though the two countries have managed to defeat India occasionally, India's dominance continued for a better period. While Sri Lanka and Pakistan have been trying hard to snatch the first position, Bangladesh had been moving up the ranks slowly.
Bangladesh, a relative underdog in this scenario, has come into the spotlight since they first defeated India in World Cup 2007. Since then, they have been trying to make their mark in international cricket evolving with every year. They have been performing extremely well in recent years and the players have managed to gain a place and stay among the top rankers.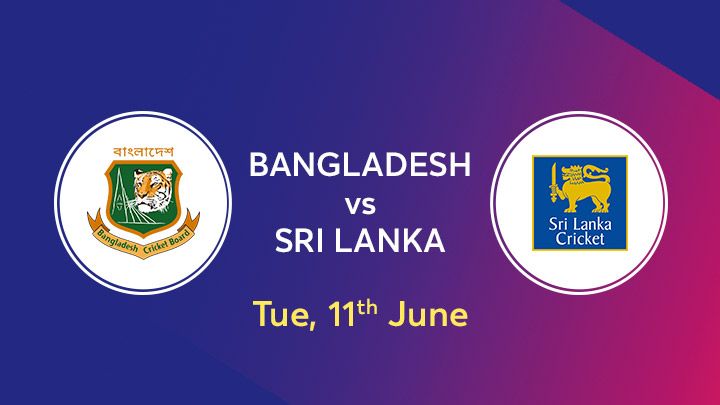 Its performance in the World Cup 2019 was incredible. They have defeated South Africa, a relatively stronger team in their first match. Though the team had lost the next match against New Zealand they have managed to perform really well. New Zealand barely managed to win with just 2 wickets in hand and in the 47th over. Their next match was against England in which they had faced a devastating defeat. Reeling from this defeat, Bangladesh team might perform with an extra motivation that can help them secure a victory against Sri Lanka today.
Sri Lankan team had been stumbling a lot lately. The team had once been better than India and dominated the world cricket. They had managed to reach the world cup finals consecutively in 2007 and 2011. Sri Lanka also managed to win the T20 World Cup in 2014 defeating India. The team that was one of the best until recently, has not been playing up to par in the world cup 2019. They faced a 10 wicket defeat against New Zealand in the first match.
Though they had won against Afghanistan, their stand in the current tournament is a question that is haunting the cricket lovers. The interruption due to rain in the previous two matches has left it quite unclear and their performance in today's match might make it easier for the analysts and the audience to assess the team's performance. And taking into consideration the aforementioned details of the struggle for power among the Indian sub-continent nations, the team's victory might put it back in a better position among the four nations.